The Amazon Basics Security Safe Lock Box (1.2 Cubic Feet) is a great low-cost solution for securing your valuables such as jewelry, documents or passports from theft.
The Amazon Basics Security Safe Lock Box includes 1.2 cubic feet of interior space that nicely accommodates all your valuables and allows for a fair amount of organization.
Features
Solid steel construction
2 live-door bolts
Digital access with electronic lock (AA battery powered)
Removable shelf with carpeted interior
Pry-resistant concealed hinges and bolts
Stylish design
Exterior measurements 16.93 x 14.57 x 10.63 inches (LxWxH)
Interior measurements 16.81 x 12.15 x 10.51 inches (LxWxH)
Door thickness is approximately 2 inches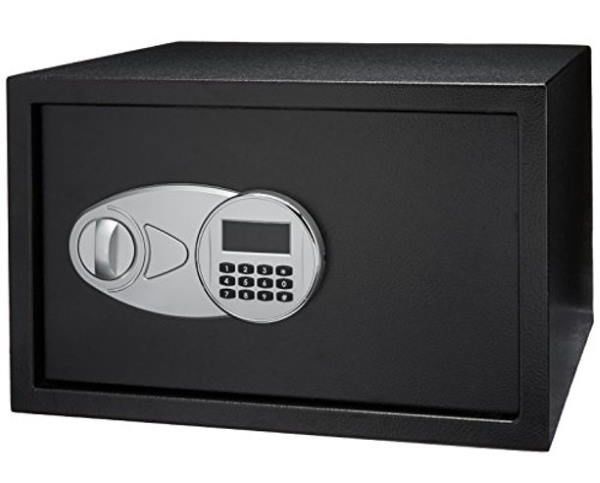 As for security, it features a strong steel body which is hard to break. It has an electronic keypad with backup keys in case of power loss. Other than that, it's important to point out that the interior is well carpeted with a scratch resistant material.
The Amazon Basics Security Safe Lock Box has concealed hinges that make the steel door harder to pry open. There is a removable interior shelf that adds additional space for storage of more ammo and other personal assets.
The 4-point mounting design ensures that owners can mount this safe on the floor, wall or a shelf (there are mounting holes in the bottom and walls as well).
The only two drawback are that it's not waterproof or fireproof. Not that much of a big deal depending on your use case.
Conclusion on the Amazon Basics Security Safe
The Amazon Basics Security Safe Lock Box is a functional and affordable solution when it comes to storing your valuables away from burglars.
While it does not provide very high security like the more expensive safes, it is, at least, a better option than keeping your important belongings out in the open and it keeps inquisitive minds and prying eyes away from your valuables.
Simply put this affordably priced safe will give you peace of mind while you're away from home.