Are you looking for a medium duty paper shredder? Not something light. And not so high-duty that you can't afford it either. You want something that gives you great benefits while still being affordable.
Look no more. The Bonsaii EverShred C149-C 18-sheet cross-cut shredder is the machine you have in mind. I don't want to give you any spoilers, but, psst: a runtime as long as one full hour, 18 sheets per pass, a 6-gallon wastebasket, and casters underneath!
Pros
High-security level
Quiet motor
Patented cooling system
Casters allow easy mobility
Long runtime
Can shred credit cards and CDs
Jam protection system
1-year warranty on all parts
Cons
It's not easy feeding papers into the shredder's input slot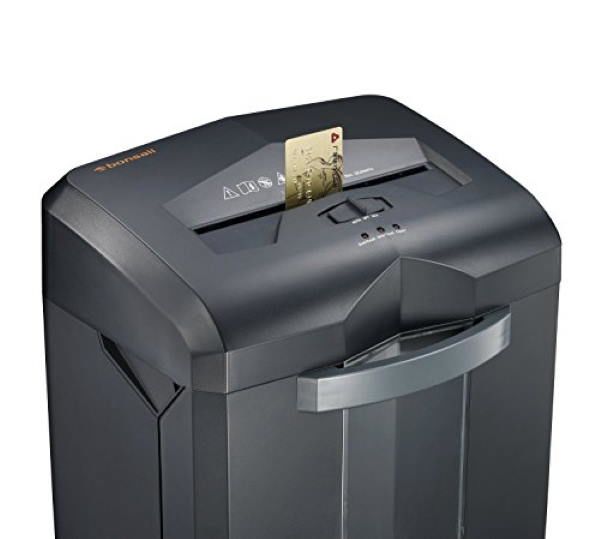 Features
Now, let's look at some of its great features:
It's a Cross-cut Shredder
Identity theft has become sophisticated. Like everything else, it has gone digital. With a good computer program, the high-tech dumpster diver can glean all the information you thought you had safely shredded.
That's if you use a strip-cut shredder. Strip-cuts shred paper into strips as long as the paper itself. Even without the computer program, a dumpster diver who is super determined could eventually piece together the documents after days of painstaking work.
But you can remove your doubts by getting yourself the Bonsaii EverShred C149-C 18-Sheet Cross-cut Shredder.
Cross-cut shredders don't cut paper into strips. They shred in a cross-sectional manner. The cross-cut shreds paper it into confetti-like pieces. Is it any wonder then that people call it the confetti shredder?
Each of the shred pieces produced by this machine measures ¼ inches by 1-23/50 inches. For the professional con-artist to decipher anything from pieces this small is impossible. The shredder guarantees you a high-security level for your shredded documents.
Multi-purpose Shredder
And if you have information store on CDs, this shredder will accommodate you too. It will shred CDs, DVDs, and credit cards.
So you can bring out all those CDs and old credit cards you have been hoarding away in cabinets and boxes of junk.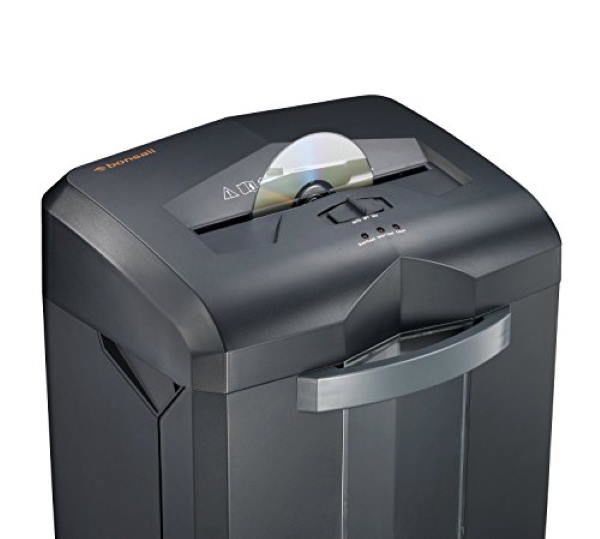 18 Sheets Per Load
Lesser shredders will do single digits per load. But with the Bonsaii EverShred C149-C 18-Sheet Cross-cut Shredder, you can insert as many as 18 sheets each time you load a batch for shredding.
This makes the shredder ideal for an office environment. At 18 sheets per pass, you will quickly run through a large stack of documents and free up your time to do more important things.
60-Minute Runtime
Many home office shredders have a runtime of around four minutes. With the Bonsaii EverShred C149-C 18-Sheet Cross-cut Shredder, you will get 15 times as much runtime. Think about it. For one full hour, the shredder is running continuously.
And by the way, those shredders that run for four minutes usually take thirty to forty minutes to cool down. So with this shredder, you can do in eight minutes what would have taken three-quarters of an hour for the other shredder to do.
Your productivity levels will skyrocket. At 18 sheets per load, a 60-minute runtime allows you to shred a super large amount of material very quickly.
If the paper shredder queues at the office have been worrying you, how much time they are siphoning from the core business, you can breathe easier with the Bonsaii EverShred C149-C 18-Sheet Cross-cut Shredder.
Patented Cooling System
When a paper shredder is being over-used, the motor will start to overheat. Eventually, this will affect the performance and durability of your paper shredder. One way to avoid this is to monitor and control how you use the machine.
Another way is to purchase the Bonsaii EverShred C149-C 18-Sheet Cross-cut Shredder. This shredder has a patented cooling system which protects the sophisticated controls from overheating.
With this shredder, you will be anxiety-free. None of those niggling doubts or fears you experience with substandard electronic products.
Experience A Quiet Operation
62 decibels is pretty low, considering most shredders' have a noise level of over 70 decibels. This quietness is thanks to its quiet motor which dampens the grinding and shredding noise.
Loud shredders are okay for a home office. But if you are looking for something for a regular office, you will want something relatively quiet.
Loud noises don't bode well for an information worker's productivity. You need quiet to properly reflect on issues and exercise creativity to come up with novel solutions.
The Bonsaii EverShred C149-C 18-Sheet Cross-cut Shredder will fit into the office environment without calling attention to itself. And at a 60-minute continuous runtime, it's no wonder they had to make it super quiet!
Jam- Proof System
Shredders unintentionally contribute to low productivity by jamming often. If you run a business or office, you will want something that will maximize productivity, not drain it.
A jam-proof paper shredder.
And that's what you get with the Bonsaii EverShred C149-C 18-Sheet Cross-cut Shredder.
It has a jam detection system which identifies when a paper is about to jam. For instance, when you stuff too many sheets of paper (more than 18) down the slot, or if you forget to empty the bin.
Once the system detects the impending jam, it automatically reverses the paper. With ordinary shredders, you have to reverse it manually.
With the jam detection system and the automatic reversal, you will save many accumulative labor hours that the team at your office would have spent dealing with paper jams.
6-Gallon Wastebasket
The bin can accommodate 6 gallons of shredded paper. That means you don't have to empty it as frequently as you would have to with a lesser paper shredder.
And being a pull-out wastebasket, it makes disposing of the wastepaper much easier.
Casters For Enhanced Portability
The machine has four casters underneath at each of the four corners. They allow you to easily wheel it from one location to another, a quality that makes the shredder ideal for an office setup.
You can easily push it from office to office, or move it when cleaning, or wheel it to the waste disposal area.
Final Verdict
This shredder is perfect for a home office. It's also ideal for a small to medium office environment. Qualities such as the high-security level, the long runtime, the 18-sheet per pass capacity, and the quiet motor are precisely what most of us are looking for in a good office shredder.
Sale
Bonsaii Paper Shredder, 18-Sheet 60-Minutes Paper Shredder for Office Heavy Duty Cross-Cut Shredder with 6 Gallon Pullout Basket & 4 Casters, Jam-proof High Security Mail Shredder for Home Use(C149-C)
【60-Minute Shredding】Bonsaii paper shredder continuous running time up to 60 minutes without stopping with an advanced cooling system and patented cutting technology. Professional paper shredders for home office use heavy duty.
【18-Sheet Shredding Capacity】The cross-cut shredder up to 18 sheets(Letter Size, 20lb) at a single pass, shreds paper into tiny particles measuring 13/64 x 63/64 inches (5 x 25mm) and reaches P-4 high-security level; shreds credit cards and staples as well.
【Low Noise & Easy to Move】The document heavy duty shredder with 62 dB low noise level will give you a quiet and smooth shredding experience and 4 casters for convenience moving to anywhere you want.
【Auto Start & Reverse】Auto start/stop and auto-reverse function protect you from the frustration of paper jams; overheating and overloading protection technology keeps sustainable using and prolong shredder's lifetime. Press the power switch, you only need to put the paper into the entrance of the shredder and it will work automatically.
【Large Capacity & 1-Year Warranty】6 gallons pull-out wastebasket capacity can hold more than 400 sheets of A4 paper for less frequent and easy emptying; the transparent window makes it easy to see when it is full. Bonsaii provides 1-Year warranty for our products. If you meet any questions during use, please feel free to contact us, we have professional customer service to help you within 24h.