If you wish to replace or a buy a new professional or commercial grade paper shredder for your large office, there could be no better pick than Fellowes Powershred 225Ci 22-Sheet Cross-Cut Commercial Paper Shredder.
For those who are juts tuning in, I'm saying that the Fellowes Powershred 225Ci is the perfect commercial grade paper shredder to help reduce all the paperwork and any other confidential materials you can think of in your office to extremely tiny details that cannot be reconstructed.
Intended for use by 1-6 clients, thus durable, heavy-duty shredder performs efficiently and can take on anything you throw to its tough, sharp cutters.
I know you can't wait to get your piece of this cake!
But hold on. Here is some useful information you need to have in mind before buying this machine…
Pros
Energy saving system
Backed by a 2-year warranty
Perfect shredder for the large, busy office
Advanced user safety technology
Shreds all materials
Non-stop shredding
16-gallon removable waste bin
Takes 22 sheets per feed
Cons
Papers larger than 8.5" might not easily pass through the feeder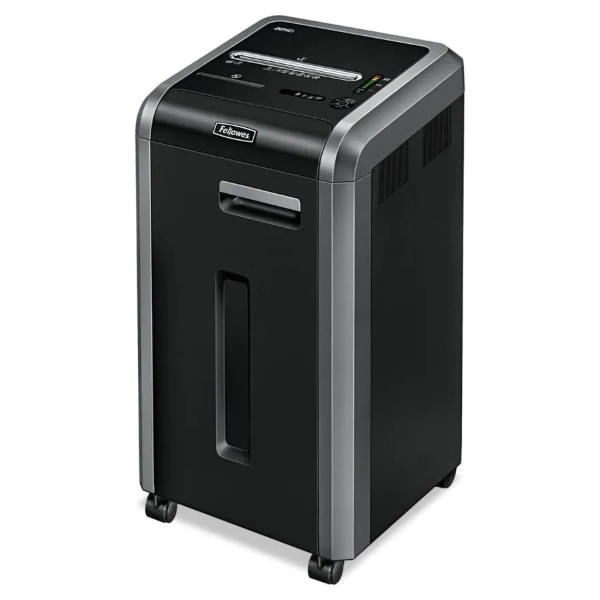 Features That Define The Fellowes Powershred 225Ci Shredder:
Accepts Up to 22 sheets of Paper per Pass
Arguably the best you ever heard about a paper shredder. This particular power has the power and capability to destroy a bunch of up to 22 sheets of paper at a go. It shreds them into 397 cross cut particles, each measuring 5/32" x 1½" to ensure that nobody can reconnect them to get the original document.
And as you'd expect in any commercial grade shredder, this machine not only shreds paperwork but other harder and thicker materials like CDs/DVDs, credit cards, paper clips, staples, junk mail- ensuring no confidential material can get into the wrong hands easily.
Experience Non-Stop Shredding!
So you're used to the standard paper shredder models that come with a set runtime for shredding your documents. After which they cool down for a longer time- say over half an hour.
If you're shredding in a busy commercial setting, where materials to be destroyed come in huge loads every second, you'd wish for something better than this.
Good news! The Fellowes Powershred 225Ci matches professional application in all facets! It comes with a continuous duty motor that allows you to continue shredding your papers non-stop. Yes, you don't have to stop in between to allow your machine to cool down, thanks to its powerful, able motor.
A better description for non-stop shredding is maximum productivity.
100% Jam Proof System
If you've used any Fellowes paper shredder, you're not new to this technology, standard cross all its machines.
If you're using this device for the first time, let me explain to you what it means to have a 100% jam proof system…
Since the paper shredding devices were first discovered, jamming remains the most frustrating experience they offer to all users. This has seen manufacturers try to come up with innovative ways to curb this issue. The Fellowes 100% jam proof technology features among the top innovations.
They engineer their paper shredder to take on the toughest of the job by injecting into it a three-level an advanced paper jamming protection mechanism.
Level One utilizes an electronic sensor to measure the thickness of your papers at the feeding point, preventing overfeeding.
Level Two powers your machine to successfully tackle tough jobs that involve folds or wrinkles which might occur when shredding.
Level Three utilizes a light bar that gives you instant feedback on whether you're feeding the machine with the set no of sheets per feed, ensuring maximum productivity.
Advanced Safety
The machine also ensures that you and your employees remain fully protected while shredding papers.
Many injuries have been reported with various paper shredders, but I doubt if any has been associated with the Fellowes Powershred 225Ci.
It comes with a patented SafeSense Technology which utilizes an advanced electronic sensor that surrounds the paper entry point and automatically disables your machine in case the user's hands touch the opening.
High Volume, Removable Waste bin
Another reason to use this machine for heavy duty shredding- it features a larger volume waste bin capacity of up to 16 gallons!
This is an unbelievably huge size to have in a paper shredder and ideal for commercial use where you'll be dealing with massive shredding job every day. It will save you from the tedious task of emptying your shredder every other day. Some users claim that it takes their machines 4-6 months before the basket gets full and calls for draining!
Besides it come with a full LED bin indicator which alerts you when it becomes full o that you can empty it to accommodate more shreds.
Because it comes with a removable design, it offers you an easy, messy-free way to dispose of the waste.
Superior Performance
And that's not all- the Fellowes Powershred 225Ci is built to last with a sturdy motor, solid steel cutters, and parts that are fully engineered to outdo its competitors.
Since it utilizes the cross-cut technology, you can count on it cut slice thicker, tougher material like CDs/DVDs, credit cards, staples, paper clips, junk mail, etc., ensuring that all your confidential documents get shredded into unreadable pieces.
Ultra-Quiet Paper Shredder
Don't fall for the tricks of the older paper shredder models; shredding doesn't have to be noisy.
Fellowes have proved this to use by integrating their patented SlientShred technology in this particular machine. This promotes an ultra-quiet performance by virtually eliminating the loud shredder noise, making it easy for you to shred your material anytime without disruptions.
Final Verdict
We needn't say more about the Fellowes Powershred 225Ci 22-Sheet Cross-Cut Commercial Paper Shredder. The top, unique features we've just discussed above act as enough evidence that this is the perfect machine to buy for your large, busy office. It's ready to slice all material you throw its way into tiny unreadable pieces.
With continuous shredding, you never have to wait for the machine to cool down. Other unique features like 100% jam proof, ultra-quiet performance, advanced safety, energy saving system, high volume waste basket, plus a superior performance make this machine worth every penny.
Sale
Fellowes Powershred 225Ci 22-Sheet 100% Jam-Proof Crosscut Paper Shredder Commercial Grade for Office, Black 3825001
Crosscut Document Shredder: The perfect paper shredders for offices and businesses, our heavy-duty paper shredders can accommodate up to 22 sheets of paper at a time and also shred staples, credit cards, paper clips, CDs/DVDs, and junk mail
Ultra-Secure Shredding: Ideal for disposing of highly confidential documents, our heavy-duty shredder tears paper into 397 5/32" x 1-1/2" cross-cut particles for enhanced security; Level P-4 security grade
SafeSense Protection: Designed to help protect more than just your identity, our shredders for home use and offices come equipped with proprietary technology that automatically disables the shredder when hands or paws touch the paper opening. Select models.
Continuous Shredding: Our ultra-efficient commercial / office shredder features a continuous duty motor that allows for non-stop shredding
Convenient Features: Perfect for shared workspaces, this office paper shredder has ultra-quiet operation and automatically detects and powers through tough jobs to prevent jams; Also includes a large, 16-gallon pull-out bin with a LED bin-full indicator