Your customers count on your discretion and confidentiality. What better way to guarantee this than with a high-security paper shredder? The Sentinel FM101P 10-Sheet High-Security Micro-Cut Paper Shredder is perfect for office use.
In this era, information has become the most important resource for businesses. Unfortunately, it has also become a high threat. Fraudsters and identity thieves are making a killing, scrounging for sensitive documents in our dumpsters and using it in their con schemes.
With the Sentinel FM101P 10-Sheet High-Security Micro-Cut Paper Shredder, you can avoid all that.
Let me tell you more about it.
Pros
Can shred 10 sheets in one go
High-level security
Has casters, making it easy to move from one location to another
Has a large wastebasket
Has a window to see when the wastebasket is full
Has an ultra-quiet operation
Reasonably fast
Comes with a 1-year limited warranty
Cons
At 10 sheets per batch, it's not ideal for a big office. However, it's perfect for a home office or a small office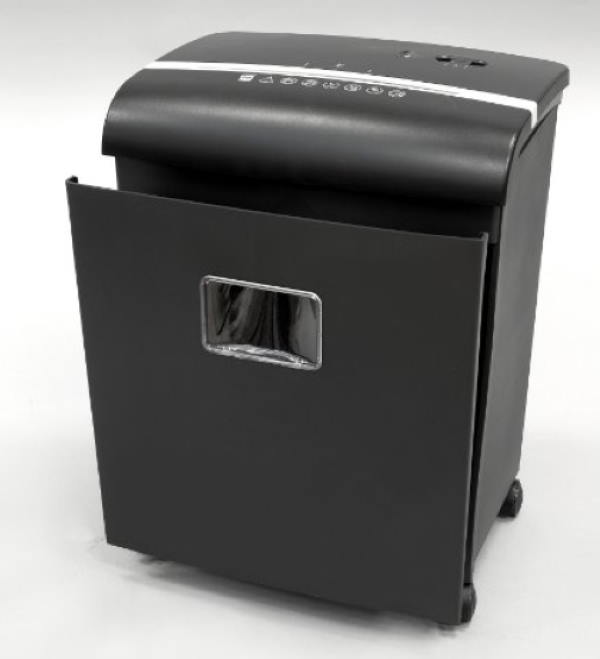 Features
10 sheets per batch
This shredder will give you good value for your money. You can pass 10 sheets through the slot at one go. That means you can do a 100 sheets by inserting just ten batches. This efficiency will come in handy when you have a stack of papers to shred but don't have much time to spare.
It will also boost the productivity of your work place. If you are the employer or manager at a small office, you will appreciate how quickly this shredder operates. Your team won't have to waste too much time shredding – since shredding is an unproductive activity, this is a solid benefit.
It's a micro-cut
When buying a shredder, you have three main choices a strip-cut, a cross-cut, or a micro-cut. When most people think of shredders, they have the strip-cut shredder in mind. You know, those long, thin strips. Though popular, they are insecure since a savvy con artist with enough determination can painstakingly piece the original document together from the strips.
Cross-cut shredders are great, but not perfect. But a micro-cut shredder, like the Sentinel FM101P is. Once the shredder has disintegrated your document into confetti-like pieces, there is no reassembling that document. It's permanently destroyed.
Micro-cut shredders are highly rated, and this one is at security level 4. When you discard your shredded wastepaper in the dumpster, you can do it without the tingling sensation of doubt or fear.
60 pages per minute
It's fast too. In addition to efficiency (10 sheets in one go), businesses value something else in paper shredders: speed. This one is fairly fast. It can do 6 feet of paper per minute. That translates to 60 pages each minute.
This opens you up to concentrate on the productive aspects of your business. It also helps you tackle your shredding procrastination.
One of the main reasons shredding seems a daunting task to so many of us is that we don't shred when the number of documents is small and manageable. We procrastinate. We let them pile up until we have mountain-like stacks.
But with a reasonably fast shredder, you can tackle the stack when it's still manageable and eliminate your niggling procrastination guilt.
Quiet operation
Listening to the shredder tear your documents to shreds can be a calming experience. But only when you are done working or if you are alone in the office. Otherwise, shredders can be a nuisance and a distraction.
The noise they generate cuts everyone's concentration and interferes with their productivity. We have all experienced it: you are in the zone, working at an optimal level of speed, intelligence, and creativity. Then comes the loud throb of a shredder, and your state of productivity nirvana is cut short.
The Sentinel FM101P 10-Sheet High-Security Micro-Cut Paper Shredder is super quiet. As a result, you can use it anywhere without causing a distracting commotion.
Comes with casters
One of the unique qualities about this shredder is that it comes with casters. This gives it a superior edge since not many shredders have them
The casters make this product uniquely ideal for an office environment. They enable you to roll it from one office to another. They also make it easier to clean the office and to take the shredder to the dumping location to empty the wastebasket.
In many ways, the casters enable an exponential productivity advantage: gradually, you conserve more time, which enhances productivity in your workplace.
Large wastebasket with window
When the paper is shredded, the pieces fall into the wastebasket. Over time, the basket fills up, and it becomes impossible to shred any more paper. At this point, the machine will begin to jam when you attempt to pass paper through it.
That's why large wastebaskets are so important. The 4-gallon slide out wastebasket of the Sentinel FM101P 10-Sheet High-Security Micro-Cut Paper Shredder can accommodate 360 shredded sheets.
As a result, there will be fewer arguments in your office about who's time it is to empty the shredder's wastebasket. This will help safeguard your productivity since you don't waste as much time.
And with the window at the side, you can look in and see how full the wastebasket is. Such monitoring will help you plan your time efficiently.
Auto start/stop and manual reverse functions
With its auto start/stop function, shredding is easy. Leave the machine on, and when you feed the paper into the slot, it will automatically begin shredding the paper.
The manual reverse function is useful for when the machine jams. It reverses the cutting blades, forcing the paper upwards to unloose it – sort of like spitting it back out.
Verdict on the Sentinel FM101P
This shredder's track record is so good that it was hard coming up with things I don't like about it. And many people who have used it seem to agree.
The thing we love most is how small the pieces of paper get after the shredder does its thing. You can rest easy once you buy this shredder – there is no way your sensitive information is landing in the wrong hands.
Other qualities, such as the casters, the ease of use, and the quiet operation, should seal the deal.
You have to buy this Sentinel FM101P Paper Shredder!
Sentinel FM101P 10-Sheet High Security Micro-Cut Paper/Credit Card Shredder
Shreds up to 10 (ten) sheets at a single pass or one credit card at a single pass
5mm x 10mm Micro-Cut shred is security level 4 rated - shreds 7.2 feet per minute (72 pages per minute)
Auto start/stop with a manual reverse function, ultra quiet operation and casters make it easy to move the shredder to any location
3.5 gallon slide-out wastebasket with a window to see when container is full - a capacity of 350 shredded sheets
Manufacturer's 1-year limited warranty