Turning loads of sensitive and unwanted paperwork into fine particles or chad that CANNOT be recovered just got easier with the Fellowes Powershred 99Ci Cross-Cut Paper Shredder.
Designed to handle up to 18 sheets of paper at a time, this is the perfect heavy duty machine for all commercial and government organizations as well as private individuals who wish to get rid of confidential info in a professional manner.
Designed with a durable stainless steel cutter plus a powerful motor, this machine outdoes its competitors to give you a superior performance that you'll absolutely fall in love with.
Below, we look at some important features of the Fellowes Powershred 99CI you need to know about his machine before you swipe that card to make an order.
Let's do this…
Pros
Powerful heavy-duty paper shredder
High-level protection of your data
Energy saving system
100% jam proof system
Smooth, quiet operation
Shreds up to 18 sheets per pass
9-gallon waste bin
100% safe device-backed by a 2-year warranty
Cons
Takes a longer cool down time (40 minutes) than most models out there
Some jamming cases (this might probably arise when you feed it with more papers than stated by the manufacturer)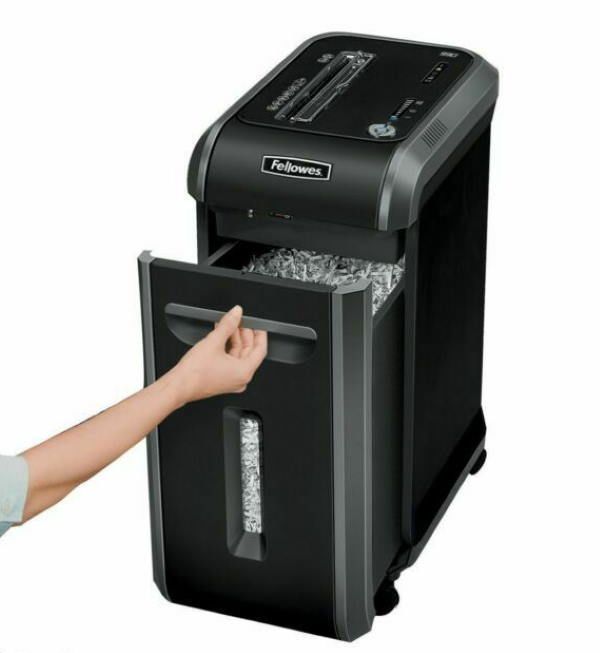 Features
100% Jam Proof Paper Shredder
Paper jam! All of us know that it's one of the most frustrating setbacks you can get from your shredder.
Due to this fact, Fellowes tries to make their systems much more convenient than other products out by there by employing an advanced paper jam prevention technology. This helps eliminate all types of paper jam as you go about your paper shredding job.
The machine comes with a three-level operation mechanism to curb paper jams. In the first Level, a unique sensor takes the thickness measure of the paper jam you're feeding into the system.
The Level Two activates a tough operation that ensures all your papers get successfully cut.
Then there's Level Three that incorporates a light bar which informs you of the maximum number of papers you ought to insert into the machine.
Say NO to the frustrating paper jams today!
Shreds Up to 18 Sheets per Feed
You heard it right! The Fellowes Powershred 99Ci Cross-Cut Paper Shredder can successfully take up to 18 sheets per feed and turn them into 5/32-inch x 1½-inch cross cut pieces that can NEVER be recovered.
So if you're in a commercial setting or big organizations that are always met with huge chunks of paperwork to shred, you'll need to go for a heavy duty machine like this one.
It's also considered as one of the top-speed shredding machines on the market today, allowing you to get rid of massive amounts of confidential data as fast you wish to.
Destroys Nearly Everything
How would you feel when using a 100% jam proof paper shredder with superior cutters and a powerful motor to destroy any item that holds the information you don't wish to be exposed to the wrong hands?
That's exactly what this Fellowes Powershred 99CI shredder offers you.
It can shred just anything you want to- from all sizes and types of papers, CDs/DVDs, staples, paper clips, credit cards, unopened junk mail and any other confidential material you can think of.
The best part is that it can shred all these materials- no matter how thick or hard- into incredibly tiny, unshreddable details with its cutting mechanism that we'll discuss next…
Cross Cut Mechanism For Extra Security Level
As I've always advised, one of the top factors to always look in any paper shredder you wish to buy is the type of cutting mechanism it utilizes. This determines the level of security of your shredded documents.
Cross cut mechanism has always been preferred by individuals/organization who can't stand the risk of their confidential information falling into unscrupulous hands. Luckily, pour machine above features the same cutting technology.
It will shred those credit cards, sensitive tax documents, DVDs/CDs, etc., into 5/32" x 1½" cross cut strips (translating to Level P-4 security).
Extended Run Time
The paper shredder can shred for as long as 30 minutes or half an hour- that makes other paper shredders out there look like a joke!
With such a machine serving you for such an extended period, there isn't a single shade of doubt that you'll be able to damage your load of confidential material before it takes 40 minutes cool down period.
100% Safe Machine
Operator safety comes as the priority in all Fellowes products. And the SafeSense technology that comes with this Fellowes Powershred 99CI high-end paper shredder is a living proof of that fact.
Being one of the smartest features to ever come from Fellowes, this technology helps eliminate paper shredder accidents when operating it.
It involves an electronic sensor that automatically shuts off the machine whenever your hands get close to the cutters.
Isn't this the type of machine you'd want to shred your paper at your business or home where you can't stop your kids and pets from playing around it?
Extra Large Bin Capacity
The machine comes with a big 9-gallon wastebasket. And like its brothers, it has a pull-out design for easy removal/replacement.
Additionally, the bin comes with a LED bin full indicator to promote high-efficiency cleaning.
But the real deal is that you won't need to empty your bin often- unless it's full which might take around 3-4 months.
Ultra-quiet Performance
Unlike the traditional noisy paper shredders, the Fellowes Powershred 99CI shredder comes with the patented SilentShred technology that eliminate noise when the machine is running.
This allows you to conveniently use the shredder at night or in large offices where silence must be observed.
Final Verdict
Having read the above review, you'll agree with me that the Fellowes Powershred 99Ci Cross-Cut Paper Shredder deserves a place on the list of the best paper shredders for heavy duty use. Integrated with a mix of all-purpose and safety technologies, you can smoothly use this shredder at your home or office without encountering any issues common among other shredders.
It features a powerful motor, numerous unique features, and power saving function that controls the amount of power consumed.
If you want to secure your confidential documents the best way today, order this Fellowes Powershred 99CI paper shredder ASAP!
Fellowes ‎Powershred 99Ci 18-Sheet 100% Jam-Proof Crosscut Paper Shredder for Office and Home, Black/Gray 3229901
Crosscut Document Shredder: The perfect paper shredders for home offices and businesses, our heavy-duty paper shredders can accommodate up to 18 sheets of paper at a time and also shred staples, credit cards, paper clips, CDs/DVDs, and junk mail
Ultra-Secure Shredding: Ideal for disposing of highly confidential documents, our heavy-duty shredder tears paper into 397 5/32 x 1-½" cross-cut particles for enhanced security; Level P-4 security grade
SafeSense Protection: Designed to help protect more than just your identity, our shredders for home use and offices come equipped with proprietary technology that automatically disables the shredder when hands or paws touch the paper opening. Select models.
Continuous 30-Minute Run Time: Our ultra-efficient home and office shredder runs for up to 30 minutes before needing to cool down, meaning you're able to complete multiple shredding jobs in 1 sitting
Perfect for shared workspaces, this portable shredder has ultra-quiet operation and automatically detects and powers through tough jobs to prevent jams; Also includes a 9-gallon pull-out bin with a LED bin-full indicator