Do you have a paper shredder?
Good for you. But what about the information you store in your CDs or DVDs? What about all the sensitive data that's on your credit card? What do you do with it – throw it out? Probably not. But if you have been letting it stack up, you are bound to have a mountain of junk by now.
Fortunately, you can sort out your problem by buying the Royal 112MX 12-Sheet Cross Cut Shredder. Not only will this shredder destroy your paper documents, but it will also obliterate your CDs and credit cards as well.
Let's find out more about the features of this shredder: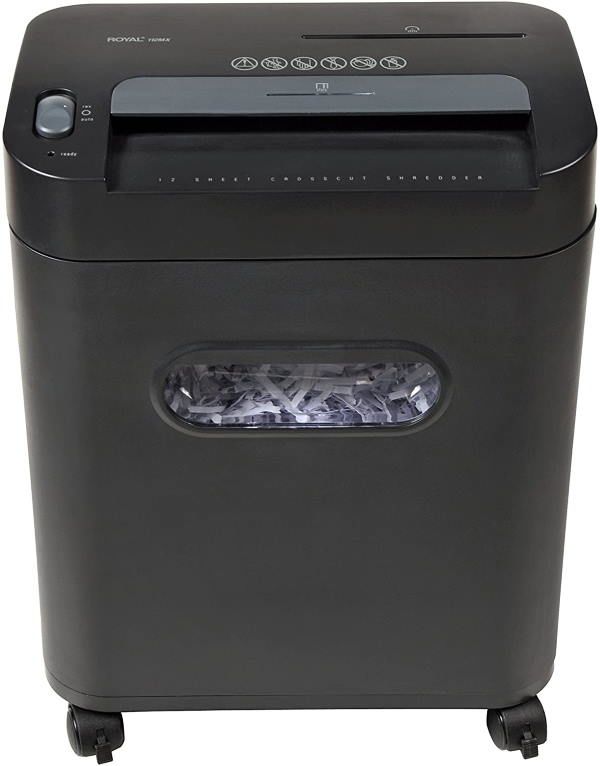 Pros
Provides high security of shredded material
Can shred CDs, DVDs, and credit cards
Auto start/stop and auto reverse
Shreds 12 sheets in one go
Has a window to see if the wastebasket is full
Has a powerful motor
Has casters
Comes with a 1-year warranty
Cons
After using it for a long while, it heats up and stops functioning for a while to cool down. Unfortunately, it doesn't have an indicator to warn you when it has become too hot/ unusable.
---
Features
It's a cross-cut shredder
Cross-cut shredders are popular in many businesses and offices. If you bought a strip-cut instead, the security of your documents would be doubtful.
When someone mentions paper shredding, your mind instinctively goes to strips as long as the paper length. Even people who have never used a shredder have seen such strips on TV. That's the work of a strip-cut shredder.
Unfortunately, it's possible to take these long strips of paper and piece them together. A dedicated con artist will eventually get all the information on that bank statement you thought you had shredded into oblivion.
But with a cross-cut shredder such as the Royal 112MX, you are assured of high security. It's nearly impossible for anyone to glean any useful information once your documents have received the cross-cut treatment.
Cross-cut shredders do not cut paper horizontally. They perform a cross-sectional cut. The result: small pieces of paper that are hard to reassemble. The pieces made by this shredder are 5/32 inches by 1-5/8 inches
And considering that identity theft is the fastest crime in America, you should buy a shredder that keeps the armies of opportunistic scammers at bay. One that's good at it.
12 sheets at a go
With the Royal 112MX 12-Sheet Cross Cut Shredder, you can shred paper at a steady pace. Feed it 12 sheets in one pass, and this machine will just eat them up. At this rate, you will shred faster, and have more time to concentrate on your core business.
This also makes work much easier for your employees. Usually, a long line will form as everyone waits for their turn at the shredder. The Royal 112MX 12-Sheet Cross Cut Shredder will shorten those lines.
Plus, the 9-inch slot makes it easier to feed the 12 sheets into the shredder. So you don't have to worry that you will need to do a stuffing job to get them in. It's a simple hold, release, and watch the machine take over kind of operation.
And it has a powerful ½ horsepower motor that shreds those 12 sheets of paper into small, unreadable pieces that will break the hearts of your local dumpster divers.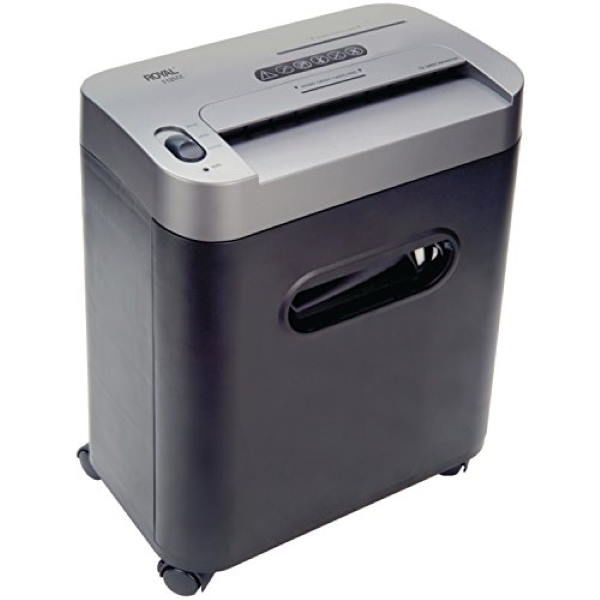 Shreds CDs too
You obviously have data stored in CDs or DVDs somewhere at home or the office. These storage devices can be a real pain in the neck once they stop being useful. They present a mystifying dilemma: you can't throw them away, and you can't break them with a hammer one at a time.
Besides, technology has found a way to retrieve data from broken CDS. So all it takes is a really good computer program the identity thief could get online.
But with the Royal 112MX 12-Sheet Cross Cut Shredder, that dilemma fizzles into oblivion. You can totally shred that CD that has a list of your clients and the details of their transactions. Grab the annoying data storage item, whether CD or DVD or credit card and shove it into the feeding slot. Watch the shredder obliterate the CD.
And to crown it all, Royal has provided separate slots for shredding different things. It is this attention to detail that makes the Royal 112MX 12-Sheet Cross Cut Shredder a real hit with people like you and me.
3.25-gallon wastebasket
Once the paper is shredded, it drops into the wastebasket below, where it remains until you empty it. Otherwise, the wastepaper will pile up until your shredder can't work anymore. That's why you should always check if the wastebasket is full whenever your machine has a paper jam.
This shredder has a 3.25-gallon wastebasket that can accommodate approximately 220 sheets of shredded paper. If your office does not produce a lot of shredding material on a daily basis, that should give you several days of procrastinating about taking out the shredder to empty the wastebasket.
The fact that it's a slide-out waste basket makes it even easier to empty. And there's a viewing window on the front of the shredder. So every time your shredder is about to fill up, you will know. It will help you avoid the annoying hassle of having to take off the top and check. When it comes to optimum productivity, the little things matter.
Auto start/stop and auto reverse
The Royal 112MX 12-Sheet Cross Cut Shredder has an auto start/stop function. This means you don't have to turn it off when you stop shredding. It automatically stops when you stop feeding paper to it. And when you insert a sheet of paper into the slot, it automatically starts shredding it.
The auto reverse will prove useful when you get a paper jam. Putting the machine in reverse often helps to unjam the shredder.
Casters
It has casters at the bottom. So it's easy to move it from one location to another. If you work in an office environment, this is a real advantage. You can wheel it from office to office or move it while cleaning the office.
Final Verdict
The Royal 112MX shredder has all the hallmarks of a good paper shredder: security, capacity, and multi-purpose use. It will do well in a home office, a small office, or small business.
Royal 29186X CX112X 12-Sheet Crosscut Shredder.
Royal Machines CX112X, 12-Sheet Cross Cut Shredder Shreds CD's with Console (Black)
12-sheet capacity cross-cut with Auto Start/Stop
Shreds 12 sheets in a single pass. Accepts staples, credit cards & cd's
5/32 inch by 1 5/8 inch cross cut shreds and shreds CD's and credit cards
9 inch paper entry slot